Latest News - Richard P. Allan
Tweets by @rpallanuk
Here is a list of some of my latest news.
May 2015: I have been awarded the "Buchan Prize" from the RMetS - thanks to whoever nominated me: what a pleasant shock!
April 23rd 2015: Substantial eruption of Calbuco volcano in Chile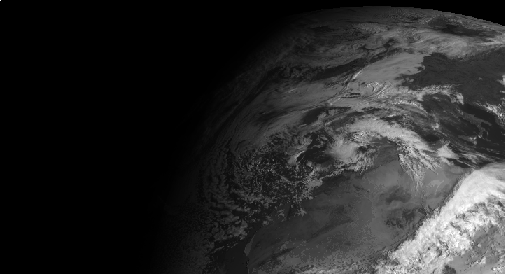 March 20th 2015: Department of Meteorology leads National eclipse expriment. Although the clouds parted up the road near Benson they remained stubborn in Reading. Here is an animation of the eclipse shadow from space from the SEVIRI simulated reflected sunlight (right).
January 31st 2015: New DEEP-C research on Earth's radiation budget since 1960 questions observed heating spike in ocean datasets in early 2000s.
---
December 17th 2014: Building UK resilience to flooding under a changing climate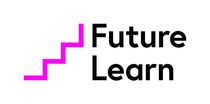 November 10th 2014: Our Changing Climate Free MOOC course
October 24th 2014: The role of the ocean in tempering global warming
October 5th 2014: Improved observations of ocean heating and sea level rise (see also Conversation article)
September 13th 2014: Has global warming gone on holiday?
August 27th 2014: Earth's energy balance: Nature Climate Change highlight our net radiative imbalance paper
August 21st 2014: Is Atlantic Ocean key in explaining surface warming slowdown? Conversation article and comment in Telegraph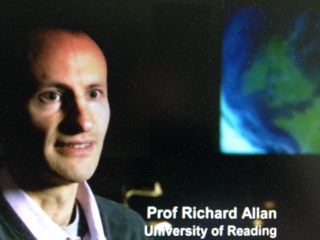 August 5th 2014: Work from DEEP-C project published: Changes in global net radiative imbalance 1985-2012. See also NCAS highlight and blogs from Carbon brief and Climate Lab Book. One of most accessed GRL papers in August 2014
May 21st 2014: How confident are we in the response of the global water cycle to climate change? YouTube video of slides with audio from 2013 Royal Society Next Steps in Climate Change meeting (see also PDF copy of slides with links)
May 19th 2014: On Channel 4's Britain's Most Extreme Weather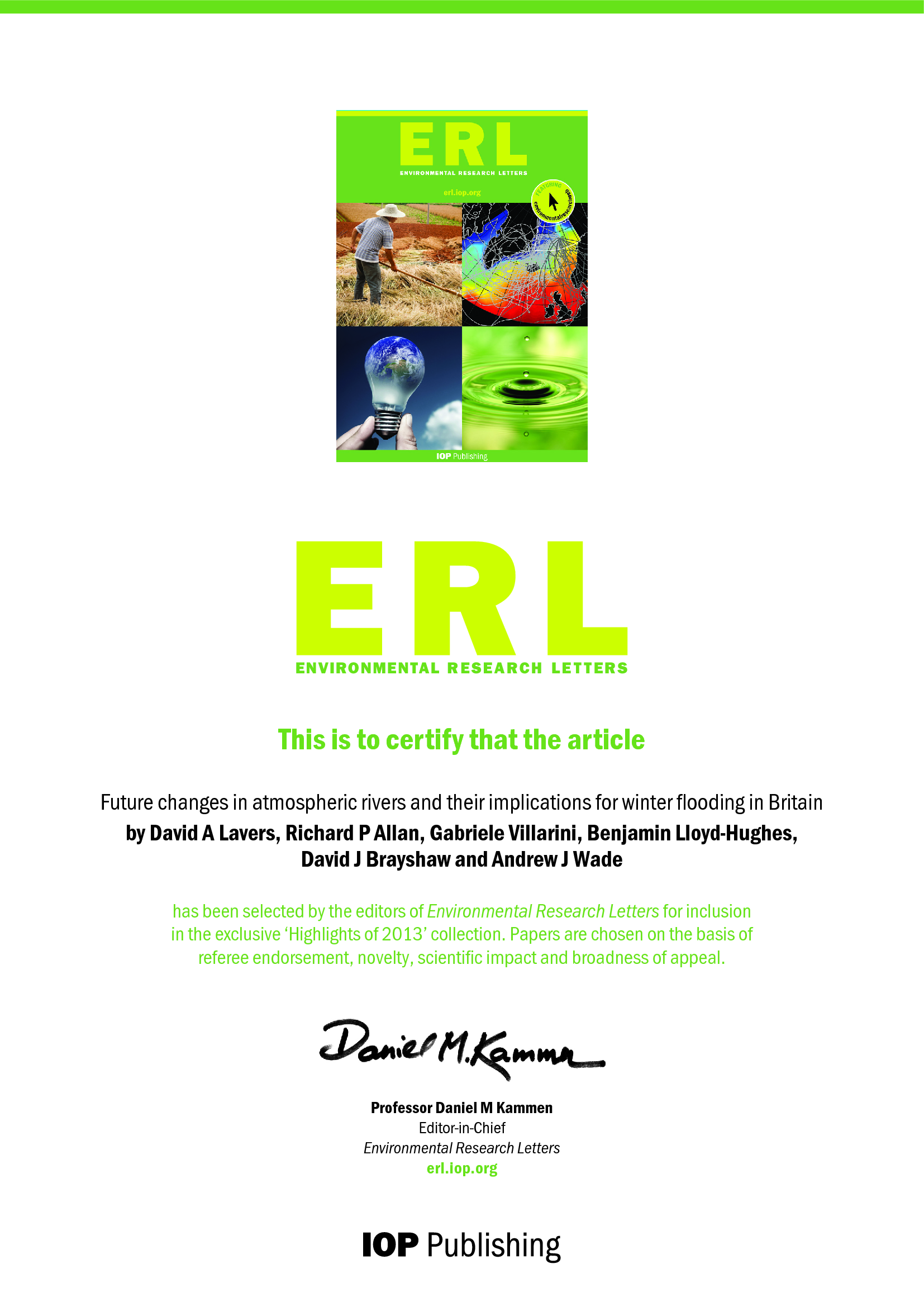 April 16th 2014: Future changes in atmospheric rivers and their implications for winter flooding in Britain has been certified by ERL as one of its Highlights of 2013.
April 10th 2014: Causes of 2013/14 winter flooding & links to climate change
February 9th 2014: Comment on role of recent strengthening of the Walker circulation on the global warming hiatus (see also articles in Guardian and Conversation)
February 5th 2014: Channel 4 interview on extreme weather and climate change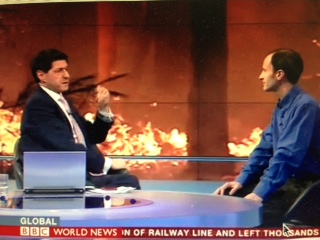 February 5th 2014: BBC World Global by Jon Sopel interview on extreme weather.
January 14th 2014: Guardian article highlights our Atmospheric Rivers work (See also 2011 GRL and 2013 ERL papers)
January 8th 2013: Will climate change mean more storms and floods for Britain?
Jannuary 7th 2014: BBC Breakfast interview about the recent storms and climate change
---
December 24th 2013: Christmas Eve Storm hits the UK
December 2nd 2013: New EU project investigating the West African monsoon begins
October 22nd 2013: 40 years of climate change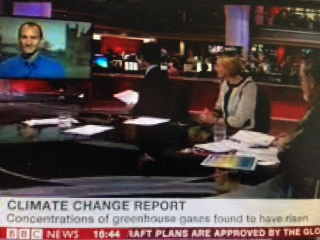 September 27th 2013: Publication of the IPCC Working Group 1 assessment of climate science. I was a contributing author on the Intergovernmental Panel on Climate Change Working Group I assessment of the science of climate change. Read the Summary for Policy Makers (PDF) and the final draft of the Full Report. The publication received substantial coverage including by the BBC (see extract from an exchange on the BBC News Channel with Professor Carter right).
Septmber 26th 2013: Video on the apparent slowdown in global warming.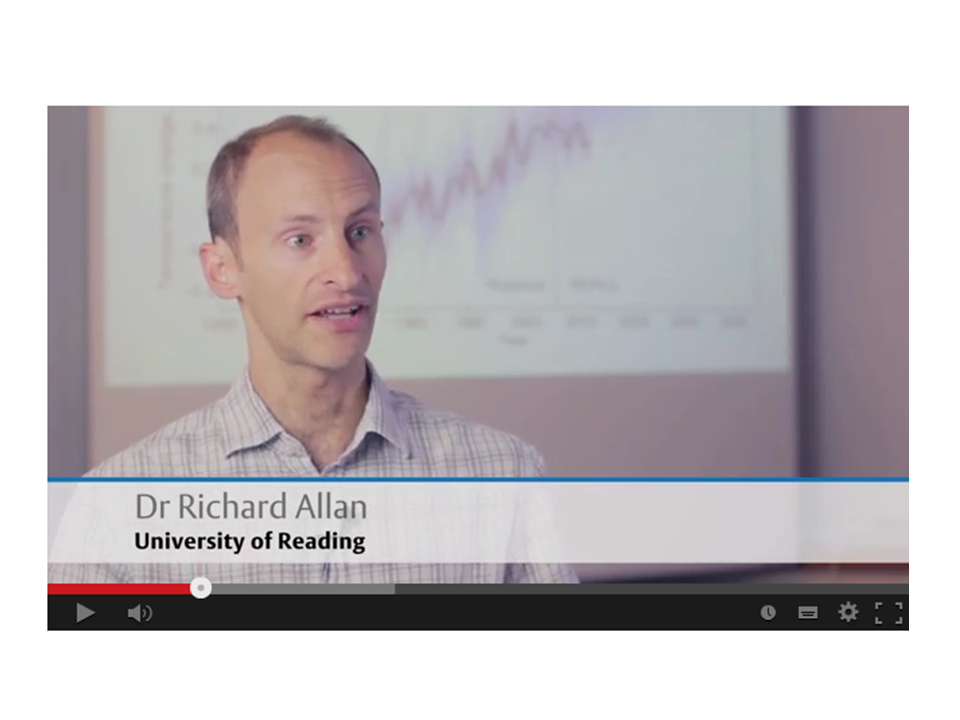 September 24th 2013: Article on IPCC and media coverage in the Conversation
September 23rd 2013: Stockholm hosts UN climate change gathering. I talked Tom Spender from Voice of Russia about climate change, the IPCC report, geoengineering and the recent slowdown in surface warming. Listen...
September 16th 2013: Spurious media claims precede release of the IPCC report. Read more... (see also Carbon Brief)
August 28th 2013: Natural ocean variability explains recent slowdown in warming. My comment on an interesting article in Nature was covered by the Independent, the BBC, the Metro and The Week). Read more...
August 21st 2013: Wet regions getting wetter, dry regions drier as planet warms: science highlight (see also open access journal paper published in ERL)
July 24th 2013: Intensification in Atmospheric Rivers and implications for UK flooding - New research published in Environmental Research Letters was covered by the Independent and the BBC (see also press release and an animation showing an example of Atmospheric Rivers during November 2009).
July 23rd 2013: The recent slowdown in warming at the Earth's surface - a Science Media Centre briefing. Read more... Listen...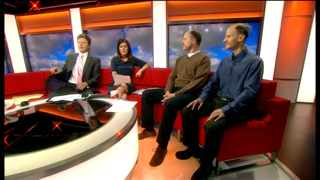 June 21st 2013: I talked to BBC Breakfast about the Cloud Appreciation Society Cloud Spotter app which will be used by NASA in their their public engagement program and will also add to ground truth validation of cloud properties measured from space by satellite instruments.
May 20th 2013: New observational constraints on climate response to rising CO2 levels: Science Media Centre (See also Guardian article)
May 14th 2013: Measuring the heating of planet Earth: I talked to Carbon Brief about how scientists are measuring the heating of the atmosphere and oceans as part of the DEEP-C project
March 19 2013: Misleading article on global warming by the Daily Mail. Read more...
30 January 2013: Increasing risks of floods and droughts: a stakeholder event organised by the Walker Institute as part of the PREPARE project (see blog)
January 4 2013: 2012 wettest year on record for England. Read more...
---
---
December 21st 2012: Large quantities of moisture directed towards the UK (see image) with associated flooding in South West England and Wales and eastern Scotland (see flood extent on Severn and Thames.
November 22nd 2012: More flooding in the UK (see Met Office radar animation and BBC coverage) | synoptic charts | NCEP precipitation anomalies | geopotential anomalies | ECMWF Stream Function 16-23 Nov | 23-26 Nov | animation ) - see also Met Office Rainfall Totals , University of Reading press release and BBC blog.
November 20th 2012: I commented for a CNN article detailing the latest WMO report on greenhouse gases. The report highlights rising Methane concentrations (after a lull in the early 2000s) and also notes increases in other important but less well-known greenhouse gases such as Sulphur Hexafluoride (SF6) in addition to the continued increases in CO2 concentrations, close to the IPCC "business as usual" scenario.
October 7th 2012: Rivers of the Skies article by Jonathan Leake in the Sunday Times mentions our work on Atmospheric Rivers (see also GRL and JGR articles)
September 23/24th 2012: Heavy rainfall over the UK
September 2012: Testing simulations of global precipitation variation | See also Article and NCAS Highlight (PDF)
June 2012: Flooding in Newcastle and Southern England
May 2012: Reading's first Weather, Arts and Music Festival begins with the opportunity to be part of a Human Weather Forecasting Factory!
Jan 2012: Warming over last decade hidden below the ocean surface (see article & blog) | NASA article | Research Highlight
---
Dec 2011: Our colleague and friend, Dr David Grimes, who was dedicated to African rainfall and its importance to society, sadly passed away. He will be sorely missed by a great many people.
Dec 2011: Atmospheric warming & the amplification of precipitation extremes featured as highly cited article by Science Watch
Jan 2011: NERC Changing water cycle projects begin
Jun 2010: Focus issue: Anticipated Changes in the Global Water Cycle .
---
---
---
Previous News
---
October 2011:
Complex mathematical representations of Earth's atmosphere, oceans and land are required to make realistic predictions of future weather and climate. Satellite data is becoming increasingly important in evaluating and improving the physical representation of simulations of planet Earth that are made by these detailed computer models. For example, since 2003, Met Office weather forecast model simulations have been routinely scrutinised through comparisons with GERB satellite measurements of the Earth's radiative energy balance. Detailed analysis has been undertaken to understand and improve the simulation of cloud processes, examining the radiative properties of cirrus cloud from aircraft condensation trails and identifying the the greenhouse effect of desert dust.
As part of the commitment to the exploitation of satellite data in monitoring and measuring the workings of planet Earth's environment, the University of Reading has joined ISIC. Read more...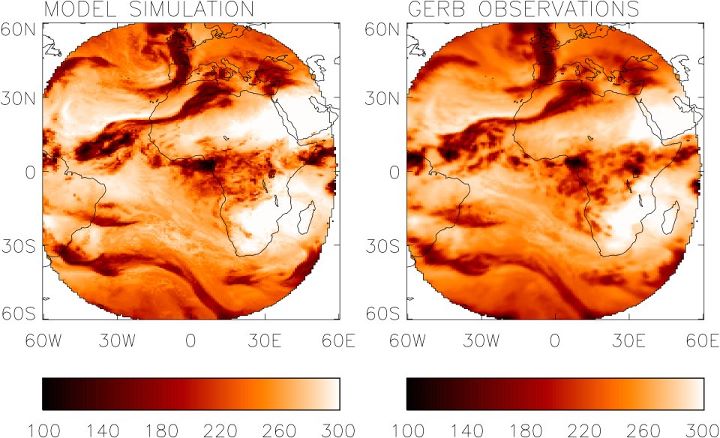 Above: Radiative energy (units: Wm-2) emanating from planet Earth at 6am GMT on Monday 24 October 2011 as simulated by the Met Office global forecast model and the Geostationary Earth Radiation Budget (GERB) satellite instrument.
Dark regions in the image denote high altitude cloud, with cold tops that only weakly emit thermal infra-red (or longwave) radiative energy out to space. Relatively cloud-free, hot regions, such as Saudi Arabia in the image, emit strongly in the longwave part of the electromagnetic spectrum and appear light in the image above. This image was produced as part of the joint University of Reading and Met Office SINERGEE project (see article describing method), funded by the Natural Environment Research Council.
---
---
September 2011:
Intensified flows of moisture into the tropical rainy belt
Moisture is the fuel for tropical storms. Since they typically rain out in a day more water than is contained in the column of atmosphere, rain storms rely on a convergence of water vapour from surrounding regions. As part of the Natural Environment Research Council PREPARE project, work lead by project scientist, Matthias Zahn, has indicated an intensification of the inflow of moisture at low levels and outflow higher up in the tropical atmosphere over the last 2 decades (see Figure which depicts changes in moisture inflow into the tropical wet regions 1989-2008).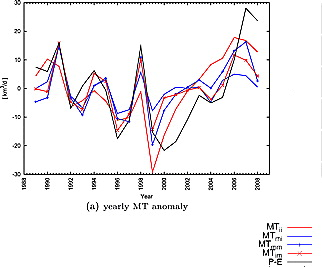 We found that detailed calculations every 6 hours were required to accurately follow the flows of moisture and our results have implications for the tropical water cycle and the intensity of rainfall. Further work is required to understand the changes in tropical circulation and its implications for changes in precipitation patterns. This work was published in the Journal of Geophysical Research.
Changes in Earth's radiative energy balance 1985-2010
In an article published in Meteorological Applications I put together the latest estimates of changes in the amount of energy entering the top of Earth's atmosphere. This comprises incoming sunlight, the outgoing reflected sunlight and the outgoing thermal emission of longwave radiation. The diagram below shows how this net flux changes from month to month (after removing the normal seasonal changes) based on satellite data (ERBS and CERES) and from reanalysis data which combines weather forecast models with observations: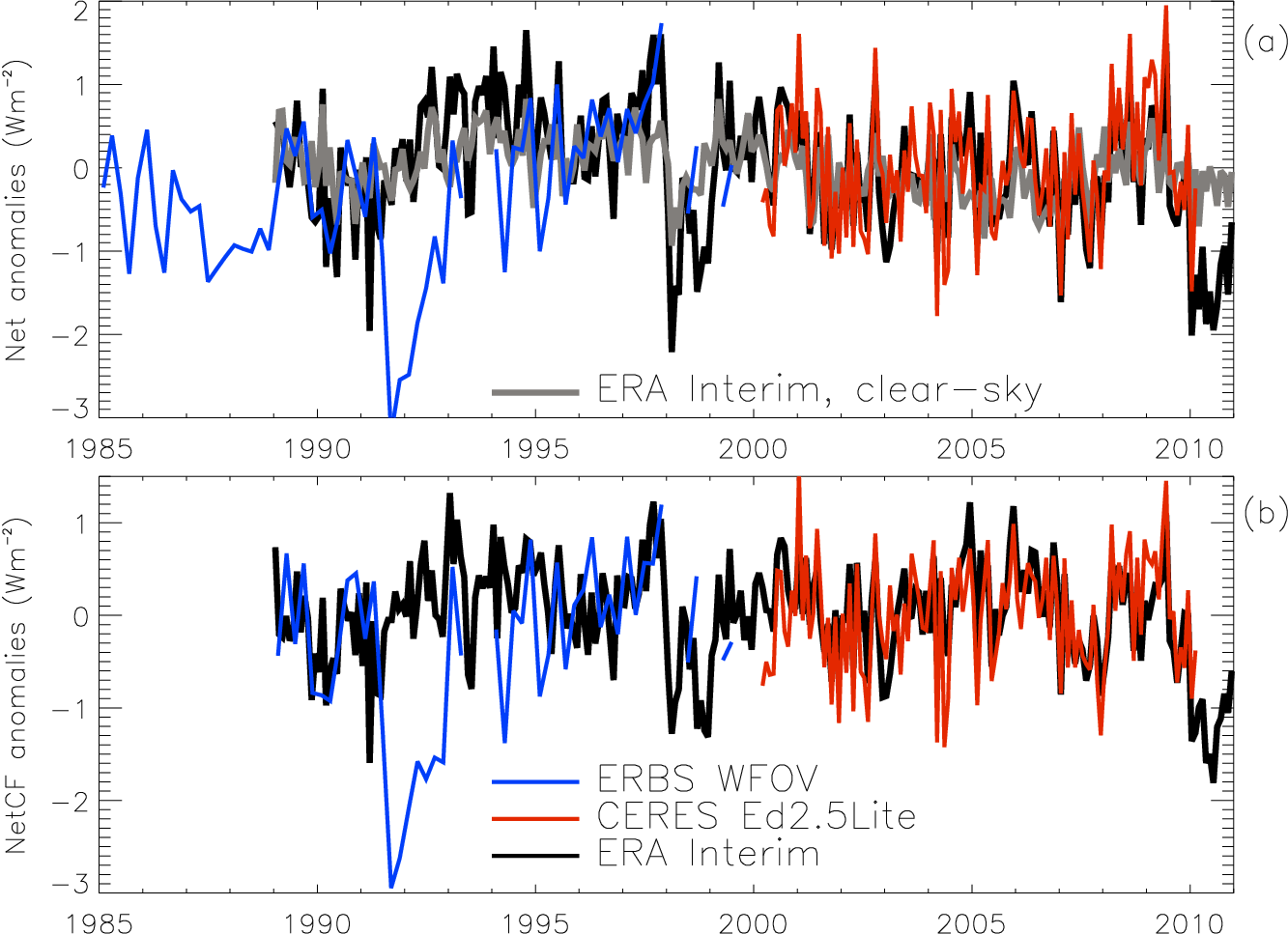 Estimates of near-global changes in (a) the net flux of energy into the top of the atmosphere (Net) and (b) the cloud radiative effect (NetCF) on this energy balance calculated by removing the simulated clear-sky fluxes (both in Watts per metre squared) since 1985 (the region considered is 60oS-60oN).
The warm El Niño years of 1998 and 2010 are characterised by negative departures from the norm. This is a result of natural shifts in the distributions of water vapour, cloud and surface temperature. Also prominent is a drop in net flux following the Pinatubo volcanic eruption in 1991 visible in the ERBS satellite data. Reflective particles called aerosol entering the stratosphere following the eruption increased the reflectivity of the planet (this is not seen in the reanalysis model since the volcano was not included and so the NetCF shows the influence of aerosol and cloud on the radiation balance; climate models can actually capture volcanic induced changes in the energy budget quite well).
Future work is endeavouring to understanding in more detail the bumps and dips in this graph which may tell us more about how the climate responds to small yet persistent radiative imbalances that determine whether our climate warms of cools. At present, human influences on the atmosphere have caused the Earth to receive more energy each year than it loses to space, resulting in a heating of the oceans.
---
---
PREPARE stakeholders engagement event on "Adapting to the increasing risks of floods and droughts". Read more...
RMetS/IOP meeting "Clouds and the Earth's Radiation balance: Observational Evidence" 23rd March 2011, Edinburgh (read more...)
Special focus issue on "Anticipated Changes in the Global Water Cycle" is now published in Environmental Research Letters.
---
Richard P. Allan
Location: Department of Meteorology (2U15)