October 2015 (updated Nov 23rd 2015):
Recent changes in Africa rainfall
Changing rainfall can have profound societal consequences across Africa where it plays a crucial role in sustaining livelihoods and economic development. Predicting how rainfall patterns will alter as the planet warms in response to human-caused greenhouse gas emissions is therefore of great importance; for this both observations and simulations are vital. A new analysis of observed and simulated changes in rainfall over Africa has been published by the University of Reading TAMSAT group: the main results along with discussion of some other important studies are summarised below: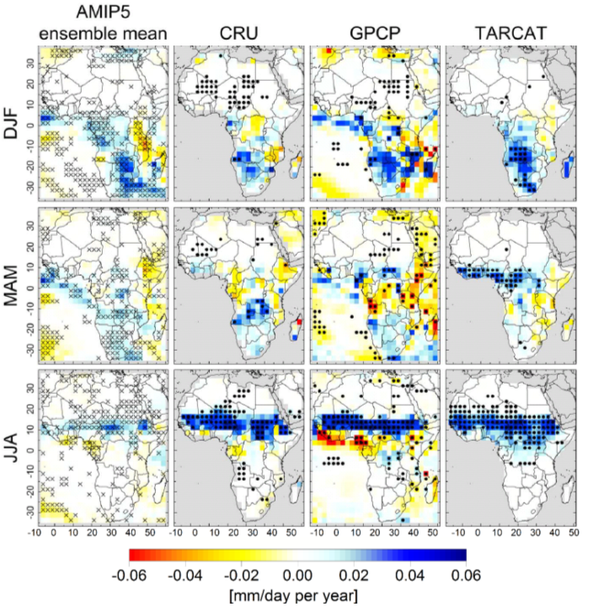 In our analysis, we excluded datasets which contained unrealistic jumps in the time series (attributable to changing coverage of rain gauge measurements or other factors). For the remaining datasets, the simulations broadly capture the observed changes in rainfall in the regions outlined above indicating that they can be explained by changes in sea surface temperature, the radiative forcings or a combination. They also add confidence in the robust nature of the observed rainfall trends. Projecting future climate change requires fully coupled climate simulations in which the ocean temperature and circulation are free to vary (unlike in the AMIP experiments we used to assess current changes). It is important that the seasonal characteristics of rainfall patterns simulated by these fully coupled models are realistic. This requires improved understanding of the physical processes that determine the climate in key regions such as West Africa and the Horn of Africa which involves combining satellite and conventional observations with detailed modelling as planned under current missions such as the DACCIWA project.
References