Mathew Owens: Personal webpage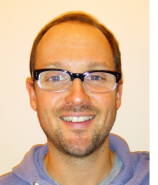 I am a Professor of Space Physics in the Department of Meteorology. I am currently the Programme Director for the new Environmental Physics BSc.
Links to a publication list, CV and research interests can be found in the left-hand panel.
Recent news
Research Interests:
The heliospheric magnetic field
The source of the slow solar wind
Empirical and numerical space-weather forecasting
Reconstructions of long-term solar variability
More information can be found here. A list of publications is available here.
Research Projects:
Space Weather Impact on Ground-based Systems (NERC funded)
Driving Space Weather forecasts with real data (NERC funded): Can determining background solar wind conditions by using data from the NASA STEREO spacecraft improve the accuracy of space weather forecast models?
The heliosphere and space weather under space-climate change (STFC funded)
Geomagnetic, sunspot and cosmogenic nuclide reconstructions of the solar magnetic field (Leverhulme funded)
Postdoctoral & graduate student supervision
Dr Luke Barnard Working on solar wind model initiation using heliospheric imager data and space climate reconstructions.
Sarah Bentley Working on solar wind driving of magnetospheric wave power and its effects on the radiation belts. Co-supervised with Dr Clare Watt.