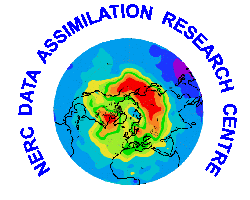 NEW OBSERVATIONS AND NOVEL WAYS OF ASSIMILATING:
THE DATA ASSIMILATION RESEARCH CENTRE.
ROSS BANNISTER,
D.A.R.C., READING UNIV.

<! IMG SRC="Images/ecmwf/Pic3" ALT="" HEIGHT=429 WIDTH=430 VSPACE=2>
---
OUR TOOLS ...
Met Office variational data assimilation system.
Met Office U.M.

Stratosphere/troposphere, 40 levels (later 64 levels).
'Climate' resolution ().
'Old' dynamics.
Cariolle scheme.
OUR AIMS ...
(amongst other things)
Assimilate new research satellite data (esp. EnviSat).

Retrieved products in the first instance.
Limb radiances.
(all additional to operational observations).

Use dynamical ideas to improve the performance of the variational scheme.

Representation of .
Preconditioning.
---
MET OFFICE 3D-VAR. SYSTEM
Cost function in model space




Cost function in 'control' space






---
DESCENT
The gradient of

:
<! IMG SRC="Images/ecmwf/Pic8" ALT="" HEIGHT=652 WIDTH=585 VSPACE=2>
---
(i) WHY ARE WE INTERESTED IN NOVEL SATELLITE DATA?
Cal./Val. for EnviSat instruments.
Global fields of trace gases in U.T.L.S.
Investigate the value of assimilating a combination of different types of satellite data.
Develop new techniques.
E.g. with water vapour in the U.T.L.S. (UM simulation only):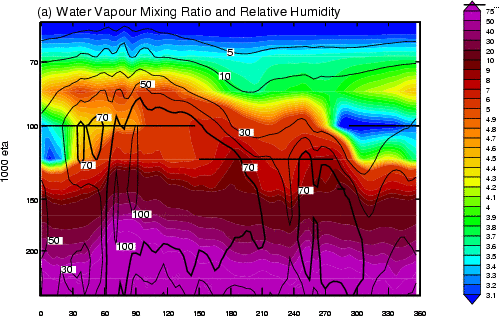 The combination of research satellite data, an operational data assimilation system, and on-line chemistry is new.
---
(i) RETRIEVED PRODUCTS (STRATOSPHERIC ASSIMILATION)
| | | |
| --- | --- | --- |
| Model variable | | Retrieved product |
| | ¬ | |
| | ¬ | |
| | ¬ | |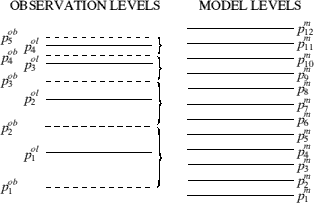 Forward models (layer averaging)
+
Adjoints
---
(ii) VARIATIONAL CONTROL VARIABLES
The background error co-variance matrix, , is:

too large to store ( elements),
multivariate,
not sparse,
ill conditioned ().







CURRENT SCHEME
Met. vars. Parameters

PROPOSED SCHEME
Met. vars. New parameters
(

will have a similar structure)
Expect that the leading (balanced) control variable captures most of the flow under all flow regimes.
Expect that the assumption of weak correlation between variables is globally valid.

Need

,

and


---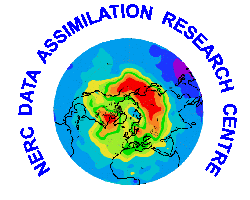 The D.A.R.C. is an interdisciplinary collection of researchers. It will try to bridge the gap between many communities.
Instrumentation / remote sensing.
Environmental and climate science.
Dynamical and control theory.
Weather forecasting and modelling.

For more information:
http://www.met.rdg.ac.uk/~ross/DARC/DataAssim.html