Great Britain wind power climatology
We have derived an hourly time series of GB-aggregated wind power generation from 1980-present using wind speed records from NASA's "MERRA" reanalysis. This data was used in our paper:
D. J. Cannon, D. J. Brayshaw, J. Methven, P. J. Coker and D. Lenaghan, 2015. Using reanalysis data to quantify extreme wind power generation statistics: a 33 year case study in Great Britain. Renewable Energy, 75, 767-778. doi:10.1016/j.renene.2014.10.024
A wind power time series like the one used in this paper can be downloaded here. The present version assumes an updated (constant) distribution of wind farms from April 2014, but is otherwise identical to that used in the paper. You can also read about and download the model used to construct the capacity factor time series (which is written in Matlab). This model can be used to construct an hourly capacity factor time series from MERRA reanalysis data, for any region of the world and for any time period since 1979.
Users are strongly advised to fully consider the strengths and weaknesses inherent to this model and data before using it. A thorough discussion of this is provided in Cannon et. al. (2015)[1].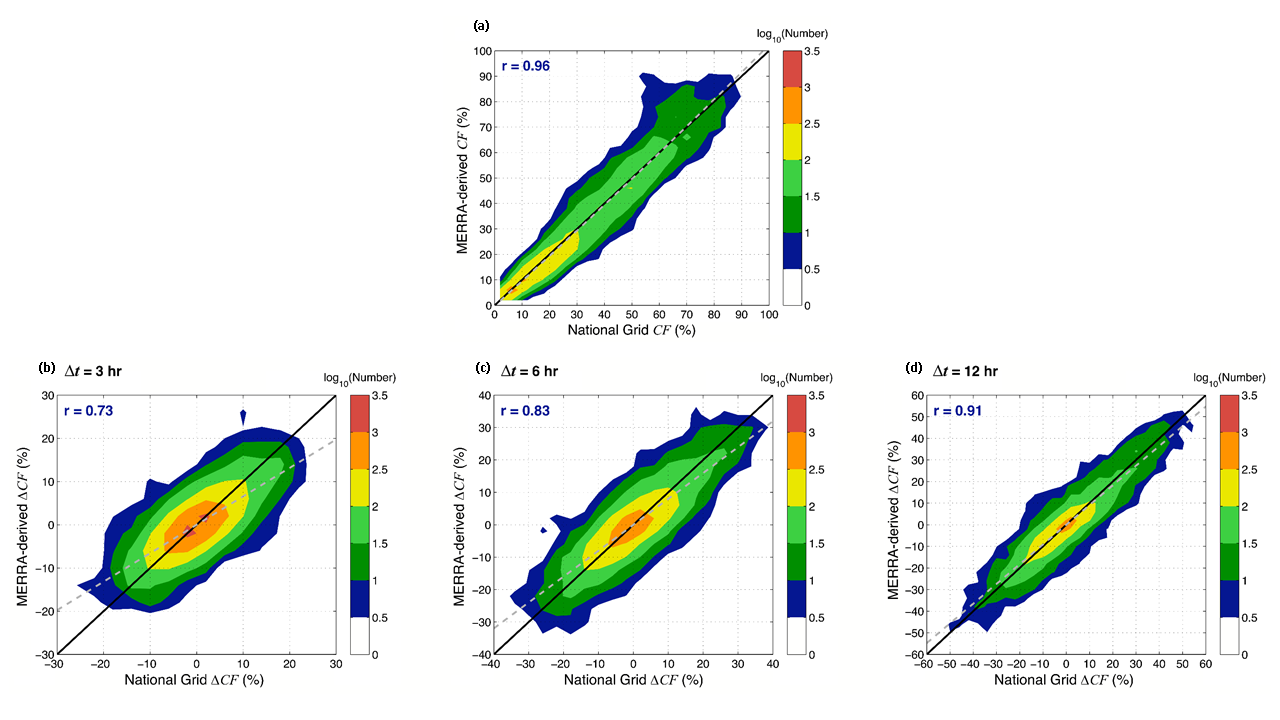 Figure 1: Some of the verification analysis in Cannon et. al. (2015)[1]. Panel (a) compares the hourly capacity factor from this MERRA-derived time series to observed records from National Grid during 2012. The colour indicates the number of occurences and is presented on a log scale to better highlight the extremes. The black line indicates perfect agreement and the grey dashed line is the (linear) line of best fit. The correlation coefficient is given by r. Panels (b-d) are like (a) but compare the change in capacity factor over different time intervals (3, 6 and 12 hours respectively). The MERRA-derived time series systematically underestimates the observed variability over short time scales, but reproduces it well over long time scales.

Figure 2: Example plots using the GB-aggregated wind power time series, from Cannon et. al. (2015)[1]. Panel (a) shows the annual-mean capacity factor given by this MERRA-derived time series, and compares it to observed records from National Grid and the Digest of UK Energy Statistics (DUKES). Panel (b) shows the probability density of hourly capacity factor values, for the entire time series (1980-2012), compared with just those hours in 2012 and National Grid observations for 2012. The cumulative density for the full 1980-2012 distribution is shown in grey.
References
[1] D. J. Cannon, D. J. Brayshaw, J. Methven, P. J. Coker and D. Lenaghan, 2015. Using reanalysis data to quantify extreme wind power generation statistics: a 33 year case study in Great Britain. Renewable Energy, 75, 767-778. doi:10.1016/j.renene.2014.10.024